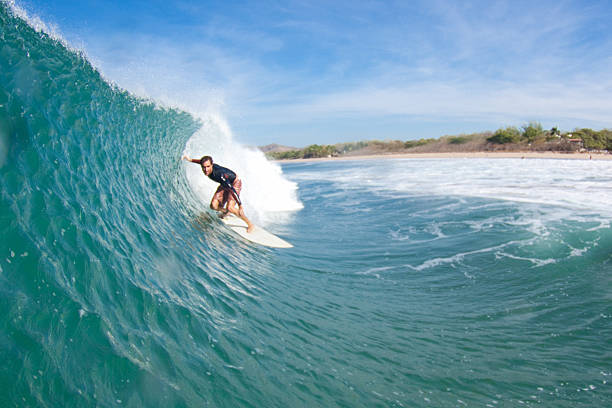 Surfing Tours
Surf's up in Guanacaste!
Surfing in the Gulf of Papagayo… Witches Rock and Ollie's Point are world famous surfing spots located in the Santa Rosa National Park. Witches Rock is situated in front of Playa Naranjo about a forty-five minutes boat ride from Playa del Coco, while Ollie's is located a bit further North in Potrero Grande. Tamarindo, Playa Negra, Avellanas and Playa Grande are also great surfing areas and are easily accessible by car just a forty-five to sixty minute drive from Playa del Coco.
Here is a short story of how Witches Rock got her name. A long time ago in Playa del Coco before all the cars and noise pollution existed…all was quiet in the peaceful fishing village of Coco. When the waves, tides and winds were just right you could hear a howling sound coming from the ocean in the northern direction. It was coming from this huge rock, like a witch crying out in the night…and so the locals named it Witches Rock or Roca Bruja.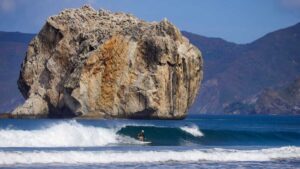 In our area, there are two seasons… We have the dry season which generally starts in November and ends in March. The dry season is the Costa Rican summer. It is a beautiful time of year to visit and surf in this area. The mountains explode with vibrant colorful flowers, sunsets are epic and the evenings are fresh and great for stargazing. The water can be a bit cooler with temperatures averaging 74 degrees with cooler thermoclines of 65 degrees. It can also be windy this time of year.
We also have the rainy season which begins in April and ends in November. Rainy season normally starts with a couple of rain showers a week, progressing to sunny mornings with afternoon rain showers and ending the day with fabulous sunsets. September and October are the months for the heaviest rains. The landscape is lush and green, very tropical. The water is warmer this time of year averaging 78-85 degrees with some thermoclines. The ocean is calm with not much wind.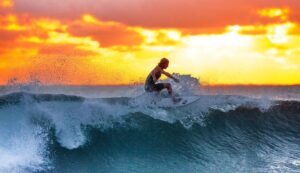 Our package includes ice, fresh pineapple, cookies and water for drinking. Witches Rock and Ollie's Point are located in the national park. Park tickets are $15 extra per person per day. We will add this to your package and purchase these passes for you. If you need to rent a surfboard we can also arrange this for you. You are welcome to bring extra snacks or special drinks on board. You should also bring plenty of surfboard wax, a hat and light covering for protection from the sun and sunscreen, it is best to bring this from your home, as it is expensive in Costa Rica. If you choose to use the aerosol sunscreen please use care when applying and spray onto your hands and rub it on. Aerosol sunscreen makes the boat surface dangerously slippery. Departure times for surfing depends upon the tides.  NOTE: All passengers on the boat must have a current park pass and a copy of your passport's photo page and visa stamp page.