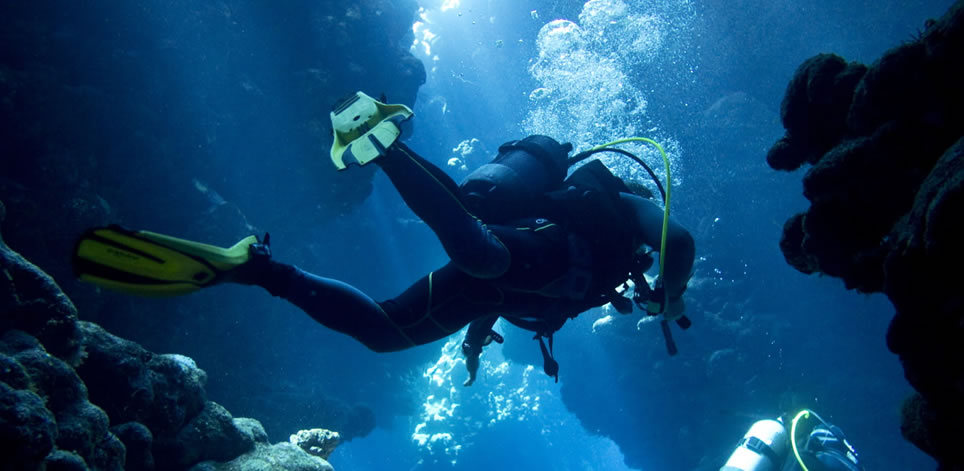 Scuba Diving
Scuba Diving in Costa Rica
Guanacaste & The Gulf of Papagayo
The diving in the Gulf of Papagayo…Playa del Coco and Playa Hermosa area in the province of Guanacaste is amazing! Not only are we situated right in the center of many beautiful local dive sites, but we are also a short thirty to forty minute boat ride to the Catalina Islands in the South and a sixty to ninety minute boat ride North to Bat Islands (Isla Murcielagos). The Gulf of Papagayo begins at one of my favorite dive sites in the Bat Islands area…Los Arcos and ends at Punta Gorda and the Catalinas area.
In our area, there are two seasons… We have the dry season which generally starts in November and ends in March. The dry season is the Costa Rican summer. It is a beautiful time of year to visit and dive in this area. The mountains explode with vibrant colorful flowers, sunsets are epic and the evenings are fresh and great for stargazing. The water can be a bit cooler with temperatures averaging 74 degrees with cooler thermoclines of 65 degrees. It can also be windy this time of year making choppy surface conditions. The water is rich with nutrients (plankton) so our visibility averages 20-30ft. This is the best time to see the pacific manta rays at Catalina Islands and at the local dive sites. This is also a good time of year to see many types of schooling fish, southern stingrays, seahorses plus our many other critters.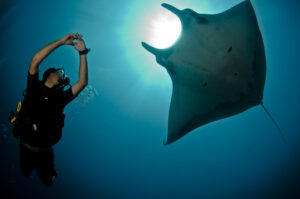 The rainy season begins in April and ends in November. Rainy season normally starts with a couple of rain showers a week, progressing to sunny mornings with afternoon rain showers and ending the day with fabulous sunsets. September and October are the months for the heaviest rains…but the diving is still great because we do not have any large rivers commenting with the ocean in this area…sometime the rain settles the plankton improving the visibility. The water is warmer this time of year averaging 78-85 degrees with some thermoclines and visibility averaging 30-60+ft. The ocean is calm and not much wind making, it the perfect time of year to visit Bat Islands (Isla Murcielagos) and see the bull sharks. The landscape is lush and green, very tropical.
We are small and personalized, we can be flexible on our trips and our hours. Special afternoon trips can be arranged.
NITROX is available with 24-hour notice and at an additional cost. Not certified for enriched air? Visit the My PADI page to learn more.
We are fortunate to have so many fantastic local dive sites to choose from. There are many beautiful local sites to choose from just a ten to twenty minutes boat ride from Playa del Coco. Sites are multi-level starting at 30ft going to 80ft, with an average depth of 30-50ft, making the diving perfect for beginners and experienced divers at the same time. We typically see white-tip reef sharks, many varieties of schooling fish, octopus, five species of moray eels, loads of puffers, southern stingrays plus several other types of rays including the pacific manta rays. We also can find seahorses, frog fish, nudibranchs and harlequin clown shrimp. The average dive time is around forty-five minutes, with a one hour surface interval between the dives. We offer fresh pineapple, cookies and a cooler of water for refreshment. You are more than welcome to bring your own personal snacks and non-alcohol beverages with you. We depart at 8:30 and return at noon. Dive trips are two tanks but a third tank can be added with notice. Snorkeling is great at most of the local dive sites. We provide a snorkel guide with three or more snorkelers.
Night Diving
Night diving is the most spectacular experiences a diver can have. We depart just before sunset and enjoy the boat ride over to one of our favorite local dive sites. Just as the last rays of light leave the sky, we jump into the water. During the night, the creatures that sleep during the day come out to play, such as sea hares, apricot sea slugs and all types of tube worms. Eels and octopus are more active and sometimes we come across a sleeping turtle. The favorite among most divers is when you block out the light on your flashlight and move your arms to watch the water light up with bio-luminescent plankton… you truly feel like you are in outer space. Riders are also welcomed to join us on the boat. It is very nice to enjoy a night on the water, watching the stars. You can also see the fish glowing in the water like shooting stars.  Children must be twelve years old and have advance certification.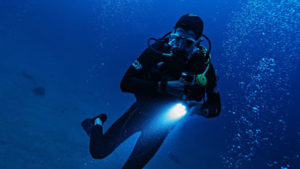 NOTE: All passengers on the boat must have a copy of their passport's photo page and visa stamp page.
You are welcome to bring extra snacks or special non-alcohol drinks on board. You should also bring a hat and light covering for protection from the sun. It is best to bring this from your home, as sunscreen is expensive in Costa Rica. If you choose to use aerosol sunscreen please use care when applying and spray onto your hands to rub it on. Aerosol sunscreen makes the boat surface dangerously slippery.
You never know what is going to come by while you are out on the water for the day. Depending on the time of year we sometimes get entertained by humpback whales, mantas and devil rays jumping out of the water, mating turtles and pods of dolphin. One time a friendly whale shark was very curious about our motor and stayed with us for thirty to forty minutes.
You can also build your own customized excursions that includes fishing, snorkeling, scuba diving and beach exploring trips. Contact us and let us know what type of excursion you would like to plan and we will send you a quote.
Our goal is to offer the best fishing, diving and snorkeling experience possible. Providing personalized excursions to our customers and friends from around the world.
Reservations are required.